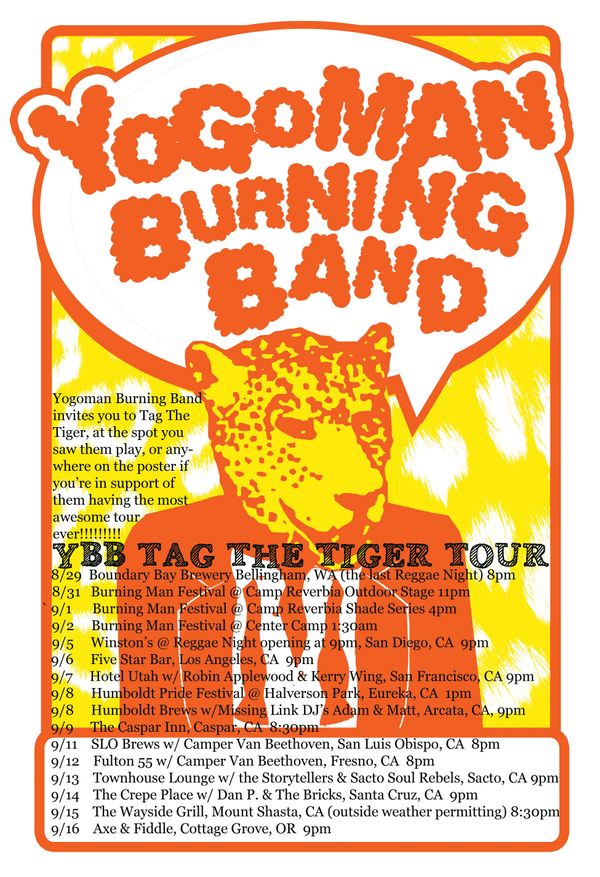 **ALERT: Yes, we realize this is not in fact a tiger, but a leopard.  However, our motto here at Yogoman Burning Band is LET'S GET RIDICULOUS! So get over it and into it**
Wed. 8/29
- YBB kicked off Yogoman's last Reggae Night in the garden in Bellingham @ Boundary Bay to a full house dance party!
Th. 8/30 - On the road to Burning Man
Drove all day and camped in S. Oregon near Kalamath Falls after picking up our friend and sound engineer for the tour,
Phredd Talbot ;)
Fri. 8/31 - Arrive at Burning Man Festival
during a major dust storm, set up at camp Reverbia (6:45 Esplanade) and played late this evening on their outside stage. The dust died down and we rode our bikes out across the playa from one gigantic fire breathing rave to another, dancing until dawn with fellow burners.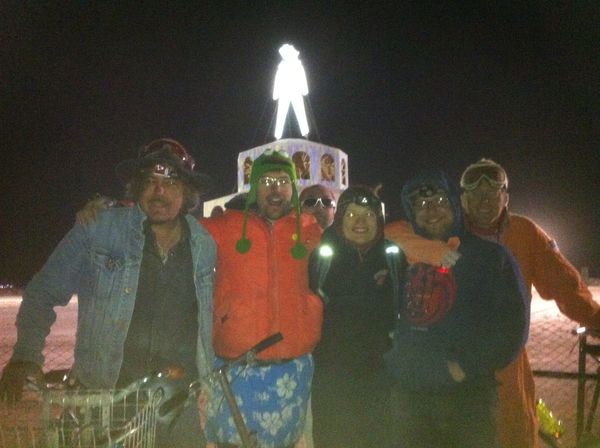 Sat. 9/1 -
After a couple hours of sleep, we began exploring Black Rock City's many camps and curiosities before playing a set at Camp Reverbia's Shade Concert Series at 4pm to a fun crowd.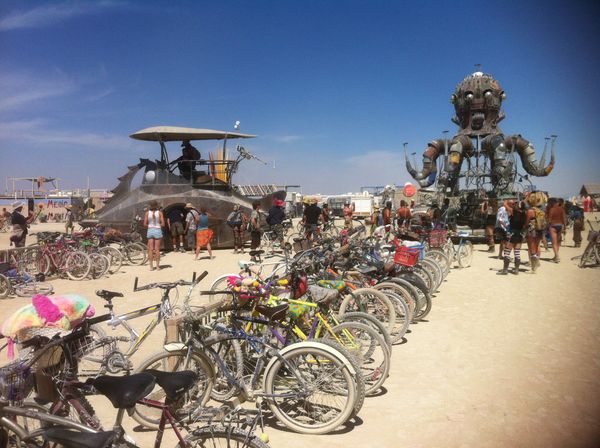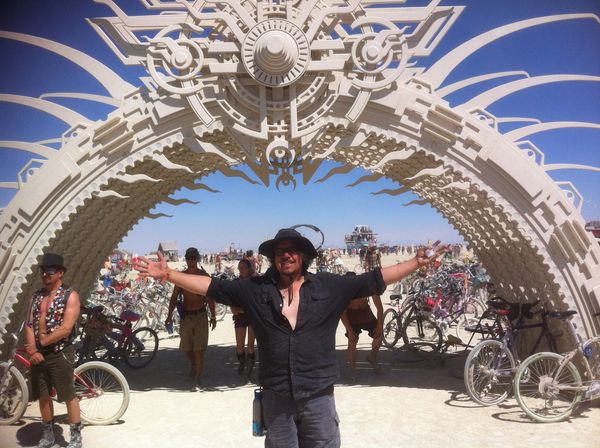 After seeing the man Burn that night, we played a great set at Center Camp's main stage into the a.m. that pulled in and woke up people from around the world, and turned into a fun romp with even some Bellingham people showing up to dance.
Sun. 9/2 - Davis, CA-
We began the long drive to San Diego, reaching Davis, taking respit at our friend Patrick Langham and co.'s headquarters. Peaceful sleep at last.
Mon. 9/3 - Cleaning Party:
We did Laundry, took the van to a D.I.Y. car wash, and removed playa dust from everything we had.  That night, Nelson and I went to lay down some more vocal and trombone parts at the house we recorded our latest batch of tunes at Mr. Langham's old recording room.  More good sleep.
Tues. 9/4 - Visalia, CA-
getting down the road to San Diego, we stopped at our friend Nick Shapansky's house for a solid meal and more rest.
Wed. 9/5 - San Diego, CA -
Arrive at my dad's old friend Floyd Rose's house, where we set up camp for a couple days, having a nice Ceasar Salad there with he and his wife Faith. Floyd and Mike were once bandmates in the 70's before Mr. Rose perfected the locking tremolo for which he is most famous for. Jordan hadn't seen them since 1981.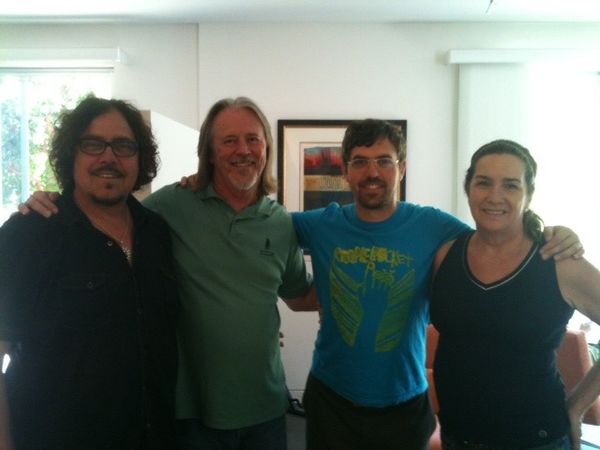 This evening we played the infamous Winston's Beach Club, where we had wanted to play for some time. The show was great and we got everyone in the club (full house) up and dancing to our music.
Th. 9/6 - Los Angeles, CA -
after taking the better part of the morning on Solano Beach near San Diego, we made the short drive to L.A. to meet up with Yogo's good friend Josh Ploeg, the Travelling Chef, who cooked us an amazing Vegan lasagna before our show at the Five Star Bar. We saw some L.A. friends and made a few new hardcore fans!
Fri. 9/7 - San Francisco, CA -
this was the beginning of the most sleepless leg of the tour.  The concert was at Hotel Utah, a fun, historic, turn of the century bldg. and unique show space.  Playing went well w/ our co-billers Robin Applewood and Kerry Wing who also brought a fun crowd who danced to the music.  
Sat. 9/8 - Eureka, CA -
This is where it gets brutal ;O. We sleep for 2 hours, wake up and then drove 6hrs to Eureka to play Humboldt Pride, where we had an ungodly 11am load in before the event started at noon. As sleep deprevation is a drug of it's own, we enjoyed playing on the fumes to enthusiastic day time crowd of colorful people that kept our spirits alive, including these two friends- Jessicurl and Ava 
Following Pride festivities, we went to our #1 Humboldt Co. host Jim Froland's house and crashed out for an hour before needing to go load in and sound check for our show at
Humbrews
- Arcata's finest live music venue. Arcata's Missing Link DJ's spun between sets and a good and sweaty night was had by all.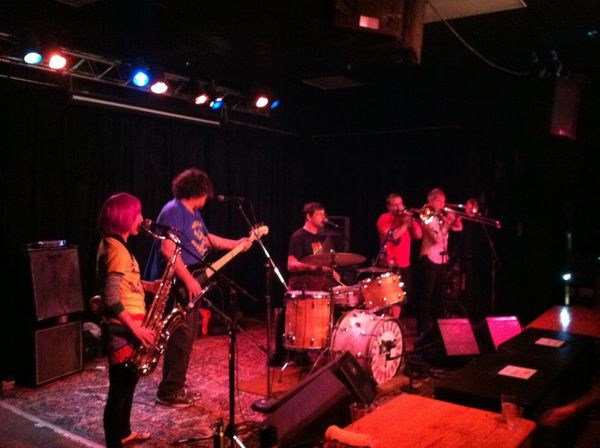 Sun. 9/9 - Blue Lake, CA and Caspar, CA -
After a decent nights sleep in Arcata (our home away from home), we headed over to Blue Lake, CA, just 15 minutes away, to play a party at Mad River Brewing Co. for our hosts Terry & Brooke Wold who supported our Kickstarter campaign that funded our last studio album Beam Me Up!  This was a great afternoon show with a super fun crowd of dancing lovely people, in a sweet spot we'd never been to before.  From there, we headed through the windy hills of redwood country through Garberville, to Caspar, CA, located between Mendocino and Fort Bragg, CA on the lost coast hwy 1 right atop beautiful clifflines overlooking the Pacific Ocean.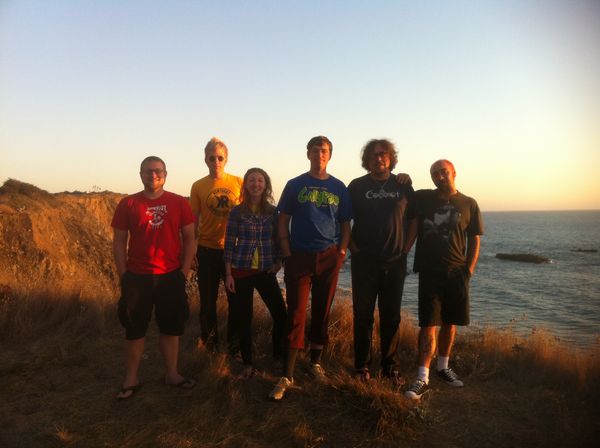 That night we played the famous Caspar Inn venue that is a essentially a Roadhouse venue with a restaurant and hotel rooms upstairs that we stay in when we play there.  It is one of the best sounding rooms I can think of and our host Bobby Miller is always a site for soar eyes.  We also checked out Calvin Turnbull's studio in Caspar, where we hope to record in the future.  This place had some serious good studio mojo and the best of both Analog and Digital recording worlds.
Mon. 9/10 - DAY OFF -
This is where the trip took a turn back south and headed toward San Luis Obispo.  We stopped at our usual hostess' Felicia Gotthelf and Penelope Houston (lead singer of The Avengers fame - S.F. late 70's/early 80's Bay Area punk legends) for a little rest and relaxation; most notably Mars and I's epic late night walk w/ Felicia in search of the late night corn dog, and breakfast the next morning.
Tues. 9/11 - San Luis Obispo, CA -
On YBB's second west coast tour in 2008, Jordan reached out in hopes of teaming up with Camper Van Beethoven for a show in Santa Cruz, CA. After being kindly told they were touring Europe and couldn't make it, he invited their agent Jerry Lima out to the show, and YBB made a new friend in the biz.  4 years later, we finally got the opportunity to open for these 80's/90's ska/pop/indie/punk legends for two shows.  San Luis Obispo at SLO Brews (another place we'd wanted to play over the years) was the first night w/ CVB and we actually got a handful of their fans to get up and dance with us.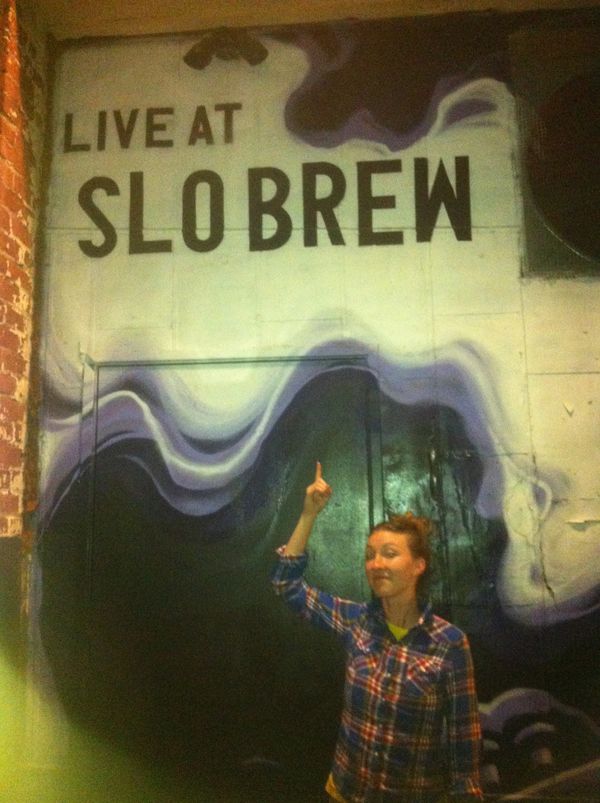 Wed. 9/12 - Fresno, CA -
As much crap as people talk about Fresno, we see no reason to condemn it. Considering we always play Fresno mid-week, it has some great people who've come out and supported us and have become great friends of the band over the years. This was no exception and we even sold a couple records at their local vinyl shop Spinner records. Let it be known YBB LOVES FRESNO! We ended our two day run w/ Camper Van by getting even more folks up and dancing than in SLO. Yay!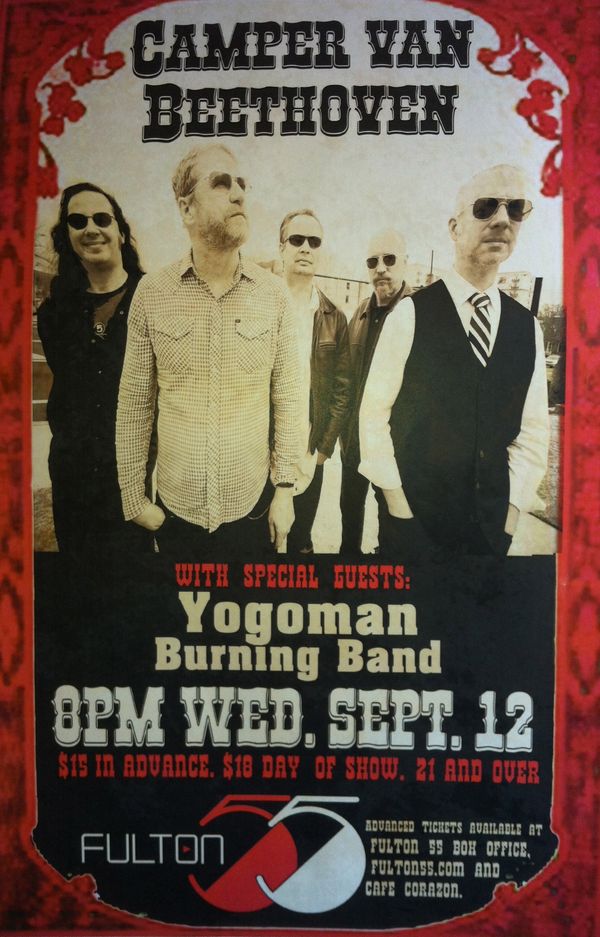 Th. 9/13 - Sacramento, CA -
this was our finest Sac show yet. Sandwiched between two rock-steady bands (one of Yogo's fav genres) Sacto Soul Rebels and the Storytellers, and a full house of friends, fans and people from Sac and surrounding areas, this really couldn't have been better.  Thanks goes out to our #1 Sacto host and leader of Sacto Soul Rebels- Tom Mackerness.
Fri. 9/14 - Santa Cruz, CA -
As if the bands we were playing with and the venues we played couldn't get any better, it happened: Another Santa Cruz wish come true! We finally got to play at the homely and famous Crepe Place, and not only that but with Santa Cruz' finest original rock-steady/pop/rock acts Dan P. & The Bricks.  These guys were truly a great band and one of the most complementary to co-bill with for YBB.  Check them out, but Dan Potthast delivers like an American Elvis Costello and with some of the most charasmatic frontman energy I've seen in a while.  Tight 9 piece band including a 5 piece horn section too!  Great great show all around and Thanks for hosting us Dan!  This show flyer was hand painted by Dan P. on plywood originally before being transferred to poster.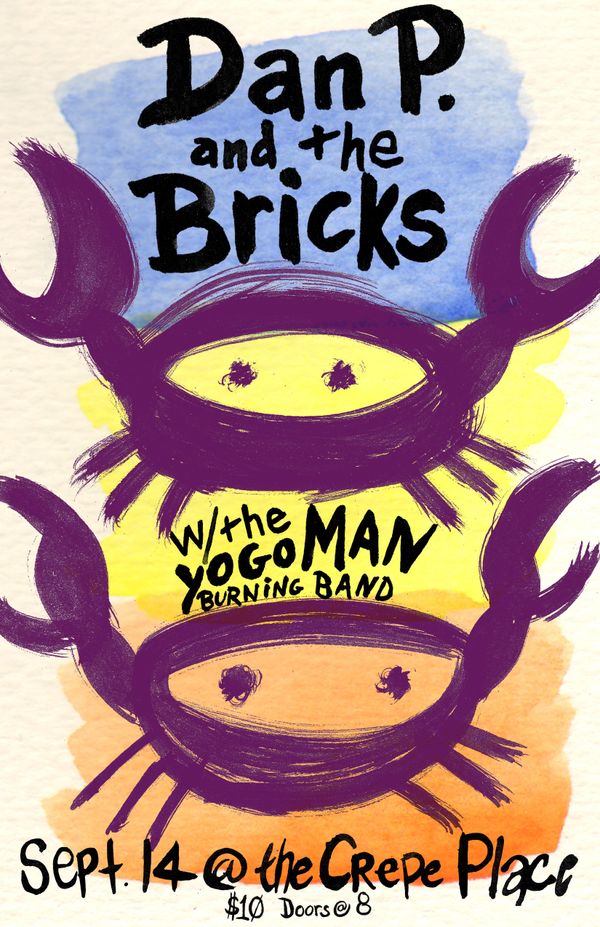 Sat. 9/15 - Mount Shasta, CA -
So you'd figure the tour would finally have reached it's climax in Santa Cruz, but NO! Mount Shasta had to top all with the bad ass mountain town it is: arriving at our hostess with the most amazing chocolate chip cookies on the planet, Laurel Harkness' pad, we got settled in before load in at the Wayside Grill.  This was our long awaited and anticipated outdoor show at the Wayside.  We had tried to pull this off with SambAmore last tour, but weather wouldn't have it, and it has always been a toss up there weather wise as to how it's going to play out.  Well, the godz looked up or down on us with favor and allowed for the outdoor show to happen in the back yard area.  A full yard of Shatites arrived and ready to dance.  From the first note to the last, everybody came close to the stage and rocked it the way a show should be with YBB; with dancing fervor!  The night was beautiful and the beauty of Mount Shasta and it's people couldn't have been more on point.  I tell you there is something super natural about this area known for it's alien/UFO encounters, sacred buriel grounds, stalagmites, stalagtites, gorgeous Lake Siskiyou and the finest drinking water on the planet! Special thanks is due to our venue hosts Terry and Denise, for believing in us 100%, helping encourage Yogo to carry on the dream with YBB earlier this year before the new members came aboard, and always taking care of us like family.
If you're ever in Mt. Shasta, please stop by for an amazing meal (i recommend the Salmon Salad. Oishi!) and some sweet sweet people running the place. Tell em YBB says hi!
Here's a little video of Nightstride at the Wayside

Sun. 9/16 - Cottage Grove, OR -
This would be the last show of the tour. The last few shows really fired us up to make the final drive home, and believe me, we were ready to be home after this two week extravaganza. Yes we drank too much coffee and WAY TOO MANY PEE BREAKS, but we made it tour our final show at the Axe & Fiddle, where we first met our most wonderful road worthy sound engineer Phredd years ago, and expressed hopes of doing this someday.  He was really the best tour companion of all time, always thankful to be there and never complaining about a thing. REALLY!  The last show was a good one, and though we missed our familiar and oh so charming bartender Nicole (who recently left the Axe & Fiddle after years of great service), we felt the love and most eccentric nature of this quirky little town that knows how to get down to the sounds of Yogoman Burning Band.  
We would like to thank all of the wonderful people who hosted us, the venues for having us, all the people who hustled to promote, all the people who came out and danced, bought our merch, and paid the covers at the door to help keep us playing our special kind of dance music for this wonderful world we're all a part of.  
Hugs- Yogoman Burning Band